The Brief
Service design is the process of understanding and refining an organization's people, processes, systems, and policies to improve both the employee experience and, directly and indirectly, the customer's experience. I've previously discussed how I position personas, journey maps, and service blueprints as core deliverables to help businesses make informed decisions about new or improved service offerings. The phrase "customer journey" is a buzzword in the industry as organizations seek to provide both an engaging and unified experiences. While any artifact is not a silver bullet, I've found journey artifacts can be critical focal points for businesses to "flatten" organizational silos by aligning on how the customer views their relationship with the business.
What I did
I want to call out one of the biggest risks when creating customer journeys: not speaking with customers. No matter the approach towards research and artifact development, it is critical that a good journey map reflect the customer viewpoint. I refer to it as an "artifact of empathy" in order for businesses to gain insights they may be unable to reach on their own.
Allegis Group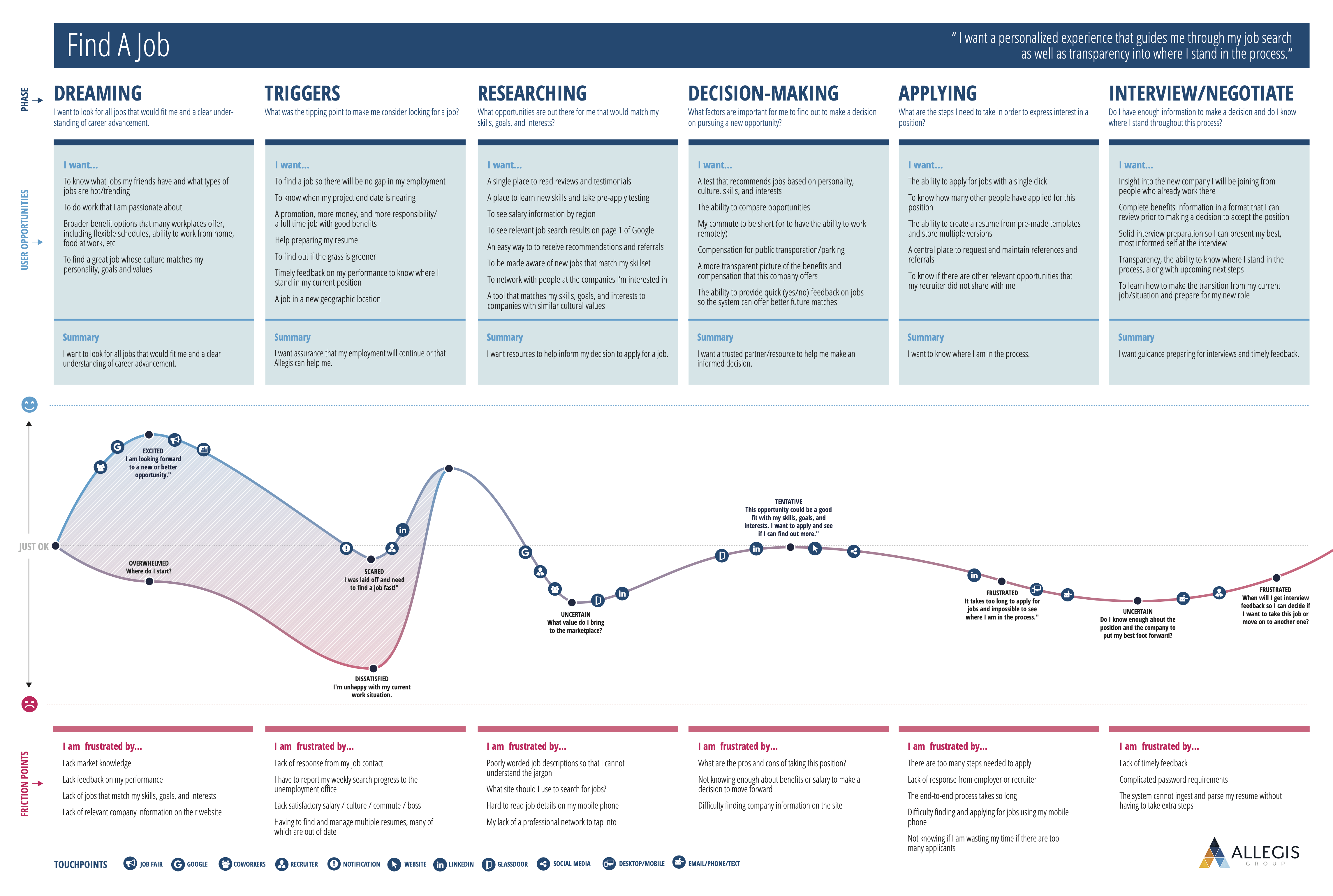 Allegis Group is the largest private recruiting company in the United States. There are multiple companies under this umbrella that specialize in finding specialized roles, whether it be information technology or even law. I began working for Allegis at a time when they were embarking on developing web and mobile solutions that would more easily connect recruiters and hiring companies with job seekers. Leadership wanted to develop journeys for recruiters, job seekers, and hiring managers to start with.
Unfortunately, when I was brought on board, the process was in motion already, so I want to call out both some successes and opportunities for improvement. The first was that our team had to quickly prepare for a workshop-style method of building journeys. There were no personas to draw from, and we had a constraint of facilitating workshops with business stakeholders only. That meant we were put in the position of creating a job seeker journey with only proxy input.
The business was happy when shiny deliverables were made available. However, it did not stop there. I argued for two things. First, I made sure we took these draft personas to then validate them with actual job seekers. This was so worthwhile, because while first-person feedback validated some assumptions, it corrected others. It was so powerful to circle back with business stakeholders to show them what assumptions needed to be addressed based on conversations with actual job seekers. A second takeaway became very apparent - we needed to create more specific personas. Not all job seekers are alike. One person may be fresh out of college, whereas another may have lost a job mid-career. Needs, goals, and motivations may be quite different. Fortunately, the business was very open to learn from challenged assumptions, and the fact that revised journeys opened up the need to create multiple target personas was very valuable to the business.
Centers for Medicare & Medicaid Services
There were two opportunities I had to create journey maps while contracting with the Centers for Medicare & Medicaid Services (CMS). The first involved helping an IT help desk better serve its internal and external customers. The second involved helping a technical review team better serve its internal customers by improving its services. For this second example, I conducted interviews with past customers in order to create personas. In this example, we found that the defined personas reflected fluctuations in experience working as a contractor in this community as well as variations in technical expertise. Once we defined the personas and learned about the customer journeys, we documented our findings visually using Mural. The result was a meeting where we shared findings and provided specific improvement recommendations.
Results
There were many benefits to creating journeys for both clients, including:
Each business gained empathy for the customer experience, which informed future business decisions
Different business units within each organization could see how their support of the customer impacted and was impacted by other business units
Validation and invalidation of current assumptions led to a greater understanding of customer needs and goals
Leaders across the business were able to identify gaps and opportunities, taking responsibility for various parts of the experience
Ultimately, businesses learned to more efficiently solve the right problems the right way